MID-AUTUMN FESTIVAL
For the first time in the history of VCP, mid-autumn festival is celebrated on campus. Throughout the week, lanterns adorned the cafeteria and corridors of the uni, giving them a colourful, vibrant feel. The festival culminated on a Mid-Autumn Nite on 5th October. Various activities are held during that day: mooncake eating (from flavours ranging from pandan to lotus to green tea), lantern playing, story-telling and trivia games. It was the last activity organised by PISA for the year and its probably one of the most interesting and exciting actvities every held in the campus by any clubs.
KARAOKE DAY
A karaoke day was held with IMSS at Top One Karaoke Bar China Town on 9th Sept. 2006. A lot of people turned out that day and have lots of fun singing their hearts out. A karaoke singing competition was also held, with the winner being presented with an I-pod shuffle. Karaoke day is an annual PISA event which is likely to see another edition in 2007.
PING-PONG TOURNAMENT
A ping-pong tournament is organised by PISA on 5 Sept 2006. There are four categories: Men Singles, Men Doubles, Women Singles and Mixed Doubles. Throughout the day, high class ping-pong action was sighted in Cossar Hall. The men singles was a classic, and Jason proved again he is the man to beat in VCP for ping-pong, sweeping away the Men Singles, Men Doubles and Mixed Doubles titles.
BADMINTON FRIENDLY MATCHES
PISA held two sessions of Badminton Friendly Matches for its members on the 25th and 28th August. The sessions held at Melbourne Uni Sports Complex drew an overwhelming response and players even have to line up and wait for their turn to play. It is indeed a good event to relax, de-stress and make new friends (or enemies).
PISA-IMSS PharMed CUP
To enhance bilateral ties between future docs and pharmacists, PISA had co-organised a soccer tournament with International Medical Students Society of Melbourne University (IMSS). The 7-a-side event was held on 22 July 2006 (Sat) at Melb Uni Hockey Ground from 10.00am to 2.00pm. However, due to some unforseen circumstances, not all the matches managed to be finished, and the remaining matches are held on 28 August. In the end despite a gallant fightback, PISA lost the tie 1.5 - 3.5. Nonetheless, PISA players gave a good account for themselves for their never-say-die attitude. Look out IMSS.. we will be back to wallop you for the challenge trophy next year!
TEA SESSIONS
In other Monash campuses, there are lounges that are exclusively designated for International students to come together, have a chat, discuss problems or just sit back and relax. However, here at Parkville, we cannot have one due to the limited space. Fear not, because PISA and our advisors, Esin Demir and Jessica Dobbie came up with a novel and innovative approach to overcome this problem: the Tea Sessions. These sessions are held every Thursday from 4-5pm at Cossar Hall Tute Room as an alternative for international students to meet up and interact. Free snacks and drinks are provided and some fun activities and informational sessions are incorporated into the tea session. For example, in the 1st Tea Session, we invited our campus counselor Mai Tham to carry out ice-breakers activities, as well as talking about shopping: where to get cheap bargains and the location of warehouses. Other notables activities include free movie screening, fashion show parade and exams tips.
AUSTRALIA'S BIGGEST MORNING TEA
In a campus-wide activity, PISA took part in the Australia's Biggest Morning Tea to raise funds for cancer research on 26 May 2006. In reflection of our international background, we decided to produce a Malaysian delicacy: curry puffs to be sold during that day. The curry puffs are hand-made by all our female PISA members and deep fried on the spot at the stall. It proved to be so popular that it sold out that day within 2 hours. In total, PISA managed to raise $100 for the funds, which is rather a commendable amount considering it is the first time we took part in the event and our efforts in bringing a truly unique dish to the 'shores' of VCP.
PISA EGM
Parkville International Students' Association (PISA) held its Extraordinary General Meeting (EGM) on 6 April 2006 (Thursday) from 4.00pm to 5.00pm at LT3. Around 40 PISA members and International students, mostly firt years, attended the EGM.

The meeting are hosted by the both the President and Vice-President of the club: Jonathan and Claudia. The agendas of the meeting are:

- Introduction of PISA
- Introduction of the current committee members
- Election of new committee members
- Discuss current International Students' issues
- Future events

The student counselor at Parkville, Mai Tham was present at the EGM to lend her support and conducted a survey to ascertained the needs of International Students.

In the election of committee members, four first yearers are elected to the executive committee. They will be integrated into the current setup and hopefully will do their best to support the International community in VCP.
HIP-HOP DANCE CLASSES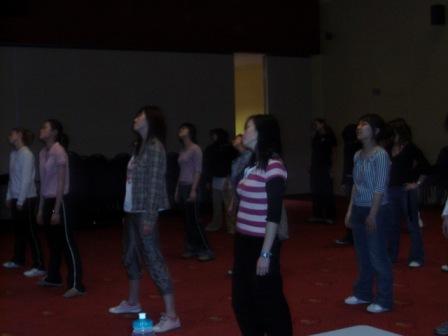 "Want to impress your family and friends back home with some funky groovy dance moves? Well, here's your chance to actually make your move!"

After its hugely successful debut in 2005, PISA brought back its popular HIP-HOP CLASSES. For only $25, members enjoy 4 classes taught by the dashing Cathy Warner. The Hip-hop classes were held in two sessions, one for each semester.
O-WEEK MEMBERSHIP DRIVE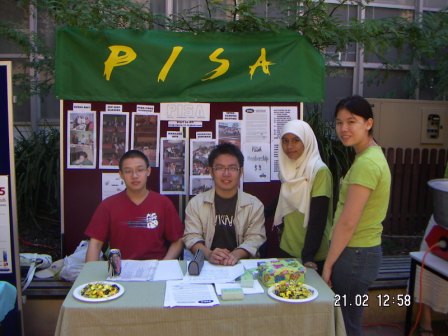 On February 19 and 20, PISA kick-off this year's membership drive by setting up a booth at VCP in conjunction with Orientation Week. By charging a membership fee of only $3 for the whole duration of the course, PISA received a relatively encouraging response from the first years. Around 50 students, most of them Internationals, signed up for the association.
GREAT OCEAN ROAD TRIP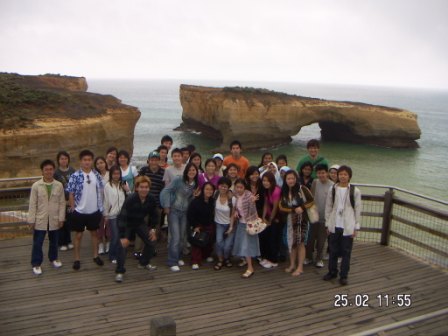 On February 26, around 30 first year international students embarked on a fun-filled trip to Great Ocean Road. Amongst the Australian famous landmarks visited were the "Twelve" Apostles, Loch Ard Gorge and London Bridge. The students are accompanied by Monash International advisor at Parkville campus, Esin Demir as well as three PISA committee members.